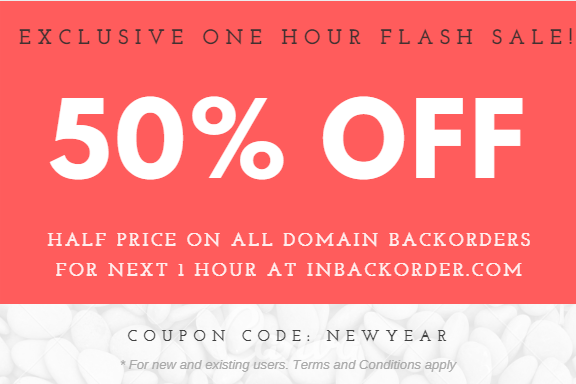 Howdy Catchers,
iNBackorder would like to thank all our loyal customers in style. What can be the better way to celebrate the new year with some mouth-watering sale? So, as a token of gratitude to our all users, we are here with another flash sale:  You can place all your orders at inbackorder.com for the next 1 hour at flat 50% off!
We thank you all once again for being with us in 2017. It was just the beginning and there are many more new features, updates and grand news to come in 2018. Stay tuned with us!
* Complete offer terms:
1. The special New Year offer is valid from 10 PM to 11 PM IST (4:30 PM to 5:30 PM GMT) on 2 January 2018.
2. You need to apply the coupon code "newyear" at the time of checkout in your cart in order to utilize the promo.
3. The offer is applicable on both Standard and Premium orders.
4. The coupon code is applicable for unlimited orders per users and the offer is valid for both the existing and new users of inbackorder.com.
5. For any general questions on how our service works, please refer to our FAQS page.
6. As always, If any domain you catch here and quickly flip it for a super huge price such as $2000 (Which is not uncommon with keyword names) – don't forget to throw us a party, we never mind : )
If you are not an existing member, just register yourself at inbackorder.com today to place an order today! Also, always keep a keen eye for emails from us as we keep on releasing such exclusive offers on the frequent basis for our users. You never know what flash sale is awaiting you just around the corner next moment!
InBackorder reserves the rights to modify, cancel or discard the offer any time at their will or upon finding any fraudulent abuse of the promo. Any such orders by abusing the promo would automatically be canceled.
Always Yours, iNBackorder.com
The exclusive service to drop catch .in and co .in names.