Exclusive Welcome Offer for New Users at iNBackorder!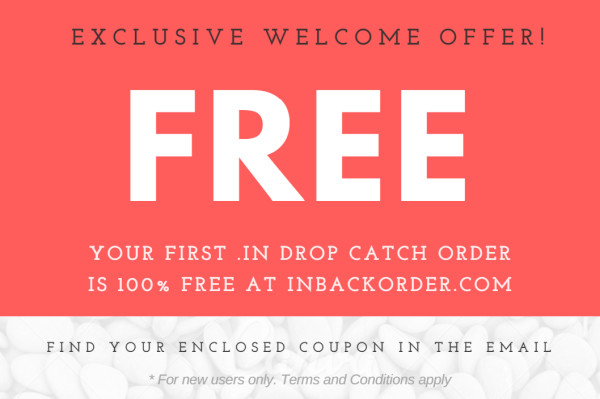 Howdy Catcher,
If you're reading this, that means you must have received our exclusive welcome offer email, containing your unique 100% off coupon code. We'll get to it in a minute on how can you go about using that.
What we are excited about is, to introduce the world's first and only public .in backorder service at inbackorder.com. Since you already catch .in domain names, you must have come across the difficulty level for individuals to catch good .in domains due to fierce competition during the drop time.
Hence, We invite you to try iNBackorder for your drop catching requirements with a special welcome offer. We operate on a flat price, first-come; first-serve basis and accept only one backorder per domain. There are no advance payment requirements and you need to pay only after your domain is successfully caught. Just create your account and you are ready to place your first order at half price!


Offer terms:
1. The special Welcome offer is valid sitewide on both standard and premium orders, from 14th February 2018 to 1st March 2018.
2. You need to apply the unique coupon code at the time of checkout, which was included in the promotional mailer.
3. The offer is applicable only to new customers and on their first order.
4. For the general questions on how our service works, please refer to our FAQS page.
5. As always, If any domain you catch here and quickly flip it for a super huge price such as $2000 (Which is not uncommon with keyword names) – don't forget to throw us a party, we never mind : )

So, what are you waiting for?
Just register yourself at inbackorder.com today to place an order today! Also, always keep a keen eye for emails from us as we keep on releasing such awesome offers on a frequent basis for our users. You never know what flash sale is waiting for you just around the corner next moment!


Always Yours
Team iNBackorder

The exclusive service to drop catch .in and co .in names.

InBackorder reserves the rights to modify, cancel or discard the offer any time at their will or upon finding any fraudulent abuse of the promo. Any orders not matching the above-mentioned conditions would be automatically cancelled.