A domain name is a digital identity for any website. A domain name can make or break an online reputation since it is the first thing that a website visitor sees whenever they stumble upon landing pages.
Therefore, it is important to understand the power of the right domain name to build a lasting business.
Especially in India, which is a growing market for online business, the relevant domain name can instantly establish trust among users if the domain name can successfully connect with an emotional or psychological level.
Being a digital marketer myself, I know how to identify the right to my name for a business.
When you choose a domain name for your business, have a clear goal of the targeted audience. Identify which geographical location you are going to sell your services and products.
If you are based in India or your targeted geographical location is India only, then the .in domain extension will be the ideal choice for your website?s domain name.
Unless you want to go global, you can purchase a .com domain name. That being said, if there are special characters in your business name, then .com extension might cost you at a premium price.
Therefore, it is highly recommended to go for the .in domain extension because it is more cost-effective than its counterpart. Moreover, that domain extension will localize your brand to the Indian audience who would trust the website more.
You can always purchase the .com domain name in the future if you have enough financial resources to invest in the domain name. However, it is recommended to go for a .in domain name if your business is based in India or your targeted readers are Indians.
If someone has already registered .com version of your domain name in India, you might have to face legal/copyright infringement issues in the future for your .in domain name.
Remember below tips before buying domain names for websites like a blog, eCommerce, or affiliate.
How to pick the best domain name for a professional blog?
1.??? Easy to remember
Standing out from the competition is extremely important in this digital world. If your blog?s domain name is complicated in pronunciation or hard to read, then your ideal readers might not remember the blog name.
You must find a blog name that is easily remembered by anyone who visits the website. You can also choose words from local languages to resonate with your targeted audience.
2. Mind the Length
The domain name of the blog must be short and crisp. A domain name like Ilovebloggin.com or anothercookingblog.com does not sound professional and brandable.
Earlier, people used to include keywords and their domain names for SEO benefit. However, that is not a trend anymore, and the name of the domain name is no longer associated with the SEO value.
So, SEO?s sake, you should not include the primary keyword of your blog and make your domain name unnecessarily longer in length.
Remember that shorter domain names are sold for thousands of dollars.
A domain name can be 6 to 14 characters long. If you can't find out short domain names, you can make it brandable by converting it into an acronym. This way, the domain name of your blog would be more succinct, brandable, and easily remembered by the reader.
3. Avoid numbers
While choosing a domain name for your blog, avoid using numbers.
I am not against numbers, but it is recommended not to include them because they might confuse listeners when they verbally communicate the name.
Unless the number a significance in your blogging, you must not include it. People usually include their birth year or birth date in the domain name to add relevance.
Random numbers make domain names confusing to pronounce and make people ending up typing the wrong domain name.
For example, if you want to tell someone ?1blogging.com?, they might type oneblogging.com in the browser and end up with a ?404 error? or a different website.
Therefore, for the sake of easy remembrance and clarity, avoid adding numbers in your domain name if possible.
4. Avoid Same Adjacent Letters in Two Words
There is nothing more confusing than complicated domain names. Just like numbers make the domain name confusing, adjacent characters in a domain name also make the domain name confusing to not only remember but typing for the first time.
Check out below domain names.
cookingguru.com; besttrademarks.com; blooddoners.com.
As you can see from the above domains, they are made of two words. However, the two words in each pair have a pattern that makes them hard to read ? Cookingguru, BloodDoners, BestTrademarks, where two Gs, Ds, and Ts are adjacent, respectively.
Unless you mention them explicitly, the listener will mistype the URL of your blog.
How to pick the best domain name for the affiliate blog
When you are choosing a domain name for your affiliate blog, the process is slightly different and a bit of reversed than find a domain name for a usual blog.
1.??? It must have a keyword in URL
An affiliate blog must have a primary keyword in the domain name if possible.
You are proactively selling certain products of a particular type of niche. Therefore, it is a good practice to include the primary keyword in the URL to make it relevant for the products.
It will resonate with the targeted audience effectively who are visiting your affiliate blog and reading landing pages.
2. Make it Short
This step makes the process challenging. Because if you include a niche or the keyword, as discussed in the above step, then the domain name would be lengthy.
Long domain names make your website sound spammy and untrustworthy. It does not look brandable and an excellent resource online.
Therefore, try to maintain character length 2 to 6 characters while including the first keyword in the domain name.
3. Look for Relevant Extension
With affiliate marketing, if you are selling products to certain geographical locations, using specific website extensions of that particular locations result in higher conversions.
Because your content and products would be aligned with the readers with specific cultural background.
Therefore, establishing trust is vital to get more conversions from your affiliate blog.
So, a local domain name extension will help you quickly increase the authenticity of your blog. Moreover, domestic extensions are not only cost-effective but make your domain name sound more reliable to the targeted audience.
For example, if your targeted demographic in India, then you can purchase a domain with the .in extension to make it sound reasonable to the Indian audience. They can proactively engage with the content and products you have published on the blog.
How to pick the best domain name for an eCommerce store
1. Short and crisp
The domain name of your online store must be brandable and aligned with the type of products you are selling.
Short eCommerce domain names are effectively promoted on other online marketing channels.
Flipkart, Snapdeal, Teespring all are eCommerce store names. See how they are embodying the message of their brands or the type of products they are selling.
2. Easy to Pronounce
When you tell your store?s name to your audience, make sure that it is easier to pronounce.
If they want to visit the store to purchase your products, they might end up at the wrong store or encounter a ?404 error.?
If they end up on the wrong landing page or have a 404 error, it will affect the brand image of your online store unless they realize they have typed the wrong website URL.
Therefore, it is crucial to choose the eCommerce store name, which is easy to remember.
3. Verify Availability of Social Media Handles
People go to social media platforms to check reviews about a product before making a purchase.
You must check that relevant social media handles are available for your eCommerce brand to get your business instantly discoverable to the audience.
So, when you run dedicated or paid social media campaigns, the handles will get your company identified to the targeted prospects.
They would instantly know about your brand on social media channels is if they have visited the website or vice versa.
If the social media handles are the same as the name of your eCommerce store, it will have a true identity on all the leading digital marketing platforms.
Finding a brandable domain name that resonates with the business and voice of an organization is hard. Therefore, we have created a list of reliable domain name generator tools for you.
Below are those tools where you can search domain name of your website, whether it is a blog, eCommerce store, or affiliate website, you can utilize the below tools to find out available domain names.
Domain Generator Tools
LeanDomainSearch combines two words and shows the available domain names for a website. All you have to do is enter a primary keyword.
Then, the tool will provide you with a list of available domain names made from two words.
It will add another word as a prefix or suffix of your entered keyword.
On the homepage of the NameStation, you need to enter the primary keyword that you want in your domain.
Once you click ?Get Name Suggestions,? the tool will provide you with a list of domains.

It will show the available domain in a dark color. You can check the availability of them or find the WhoIs information to find details about that domain.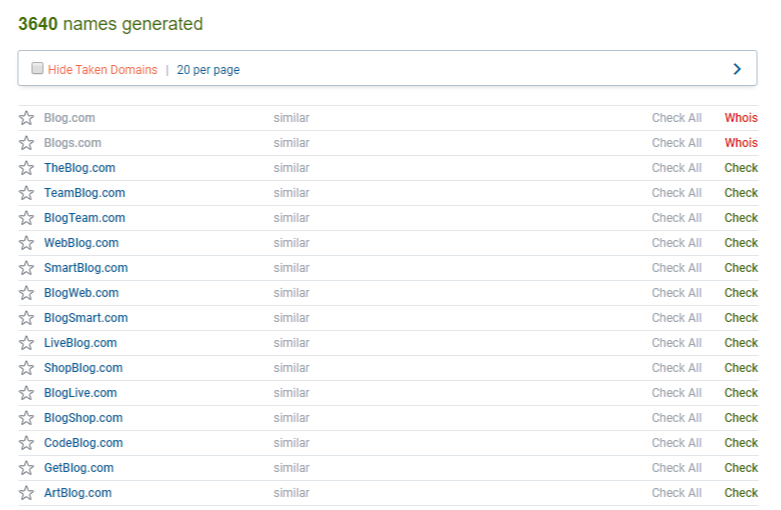 NameMesh provides you with a detailed list of brandable domain names. You need to enter the name of your brand or your industry to get the list.
As soon as you enter a name, you get different columns of different types of domain names like below. You can also choose different extensions for your website.
If you can spend some money and you are aspiring to build a brand for your business, you can find premium domain names under one roof.
Just search your keyword on the BrandBucket website, and the tool will provide you with a list of brandable domain names with their logo and price.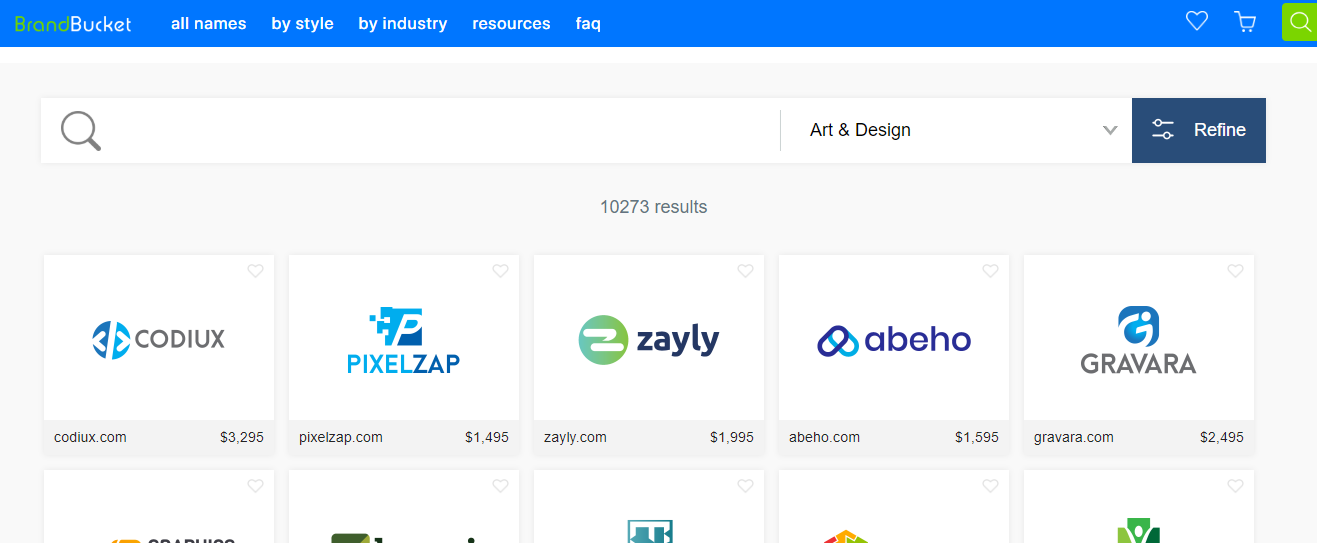 Brandpa is another marketplace where you can find brandable domain names.
You need to enter the keyword. You can also bifurcate the domain name based on the industry.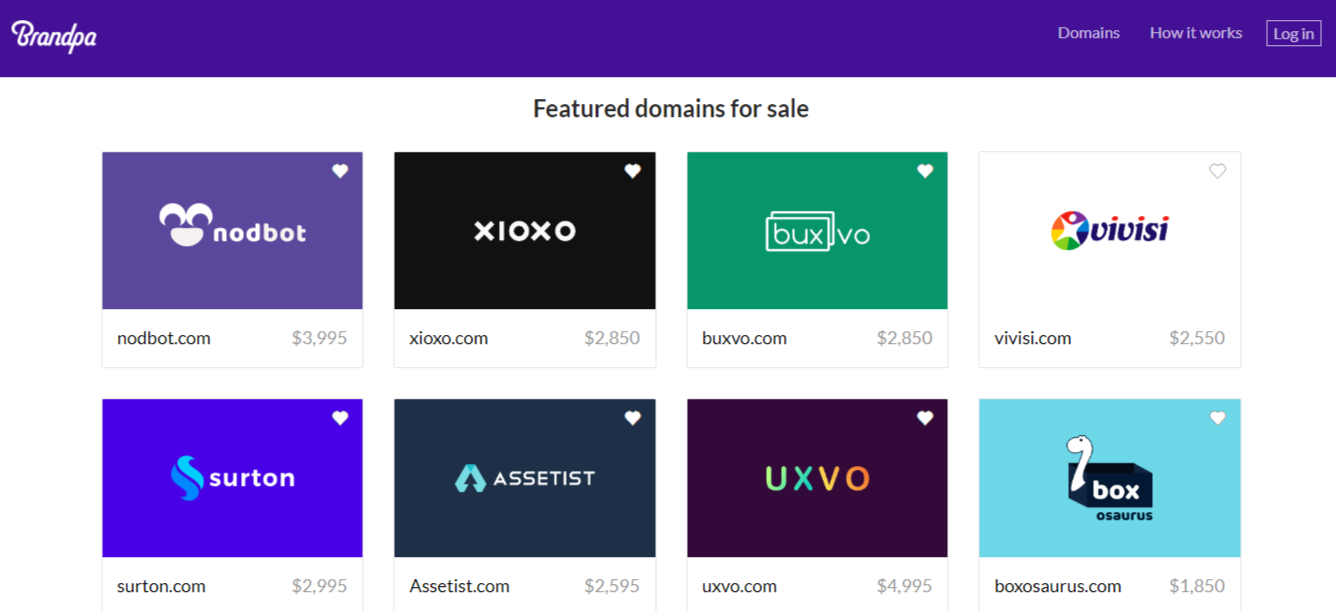 Conclusion
If this article adds any value to your domain name hunting, feel free to drop your thoughts and feedback in the comments below.
Author: Kulwant Nagi is a star Blogger, Affiliate Marketer, and Trainer. He runs BloggingCage, an Indian Blogging Community, and has helped thousands of people to kickstart their blogging career.