I get a lot of request from many people in Indian Community asking a simple & effective method to find Expiring .in Domains, let me show you the best way to find them using ExpiredDomains.net + CheckDuck.
CheckDuck is a lightweight tool to quickly asses a list of domains and assign them a score based upon their history, number of backlinks, and development potential.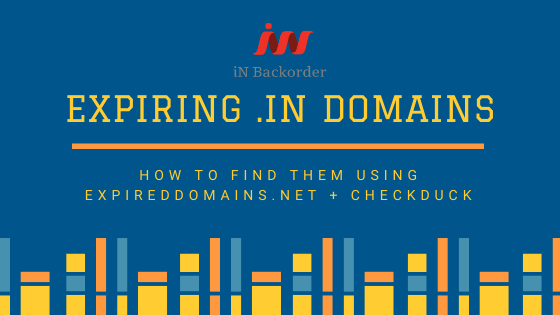 Tools Required
ExpiredDomains.net
CheckDuck
An Account at iNBackorder
Let's begin the hunting game:
1. Register a free account on ExpiredDomains.net to find Expiring .in Domains:
You need to visit ExpiredDomains.net & Register your free account to access Restricted content which is only available to logged in users.
2. Select Deleted Domains & Filter out the Results:
Now, select Marketplace Domains Tab in ExpiredDomains.net & select Pending Delete option. A list of pending delete Domains would be shown on your screen.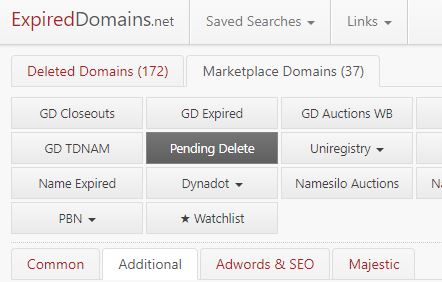 Now, Click on Show Filter button to filter out a massive list of Domains from the sheet

There are many Sub Columns & Options in Filter configure it as shown in the below images. We will go to the Additional.?Now, under Addition tab select your desired TLD / ccTLD right now we are going to select in. There are two reasons for that: First, it's a hidden niche unlike .com, so there are still gems o be found there and second, there is only one website for .in drop catching so the competition is much less and the opportunity is much bigger.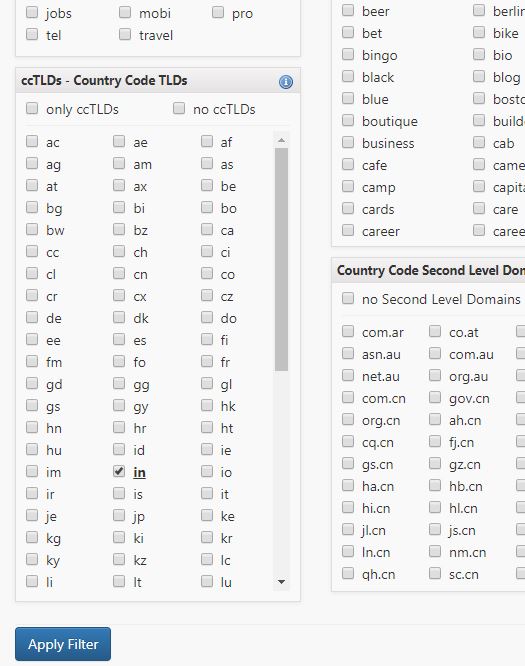 Now head back to Common tab inside Domain Name Settings CheckBox select no Hyphens, no Numbers & if you want a niche targeted .in expired domain then you can add this filter in Domain Name Whitelist section under contains "your desired niche":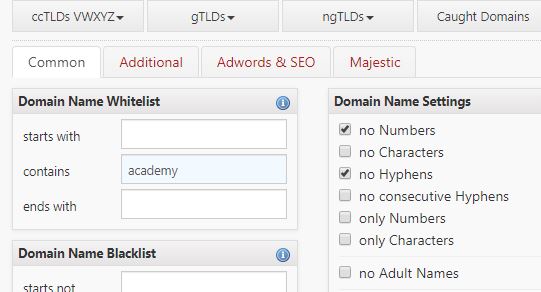 This would search domains which contains no hyphens, no numbers & contains your niche character in the domain name.
Now, in Majestic tab Enter "30" in Minimum Ext BL option, minimum 5 Citation Flow & Trust Flow then click on the apply filter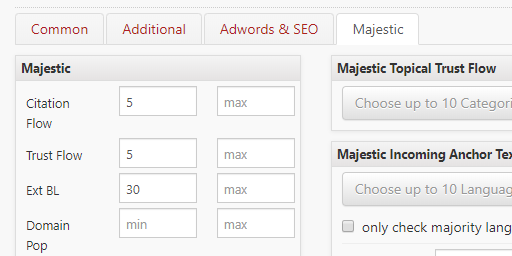 A list of filter Domain would show up.
You can now export Domain list from ExpiredDomains.net in txt or if you don't find that option click on Copy 25 Domain into your Click board option. It will be wise if you select only the domains that appeal you: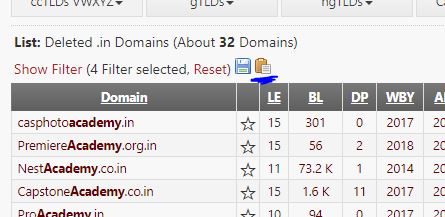 You have successfully Exported list of Good Links Domains
3. Register your account on CheckDuck
Next step is to Register an account on CheckDuck.com, Use the coupon code? "FREE25_IB" after registration to get your free 25 search credits.
4. Search Domains in Bulk Domain Explorer
In checkduck's panel, Copy-paste Domains in Bulk Domain Explorer. It would only analyze first 25 Domains because you have 25? free credits (Though you can buy more credits anytime).? Then head to Bulk Domain Checker click on Submit Domain Button.


5. Filter out the Domains in CheckDuck
Now, wait for a few minutes until all domains are processed & analyzed then click on Pause Refresh Button & filter Domains using Clean Score, Link Score & Domain Score.
Keep Clean Score 4 & Above, Link Score 2 & Above & Domain Score 1 & Above in which i myself prefer Clean Score 4+ Link Score 2+ & Domain Score 1.3+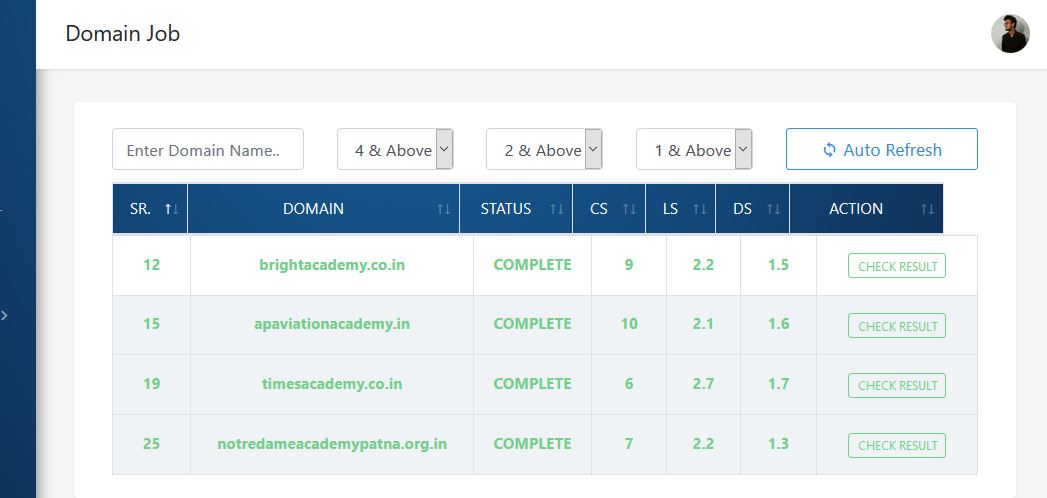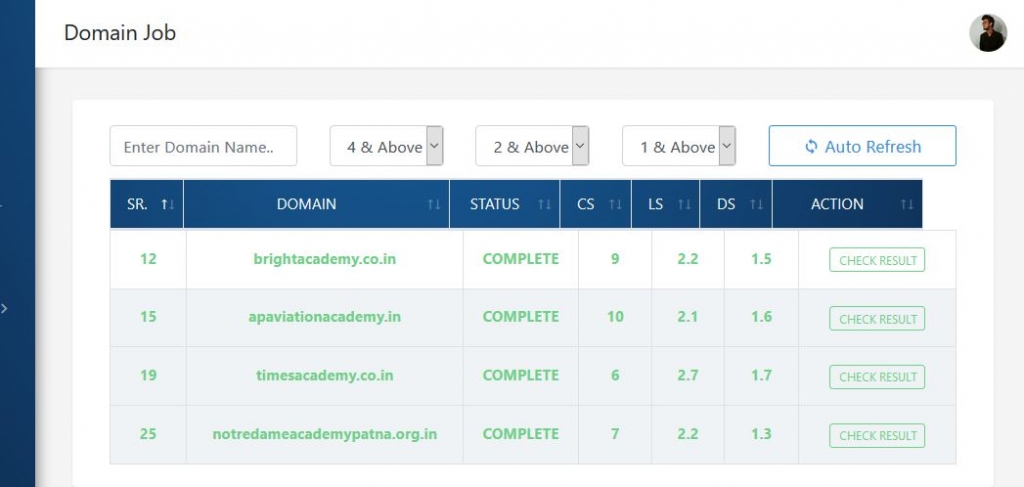 Domains would be filtered according to your defined settings. After that click on show results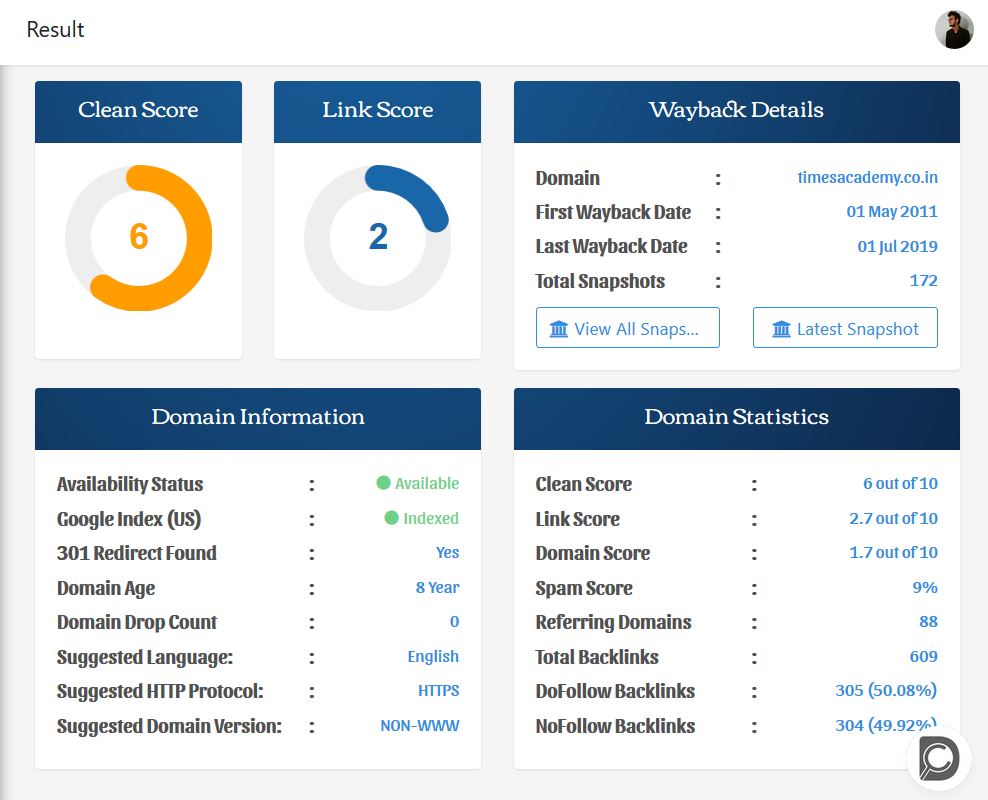 Also, don't forget to check domains stats like Referring Domains, Dofollow, Nofollow, Suggested Language, Suggested Protocol, Wayback Outbound Domains, Wayback Language & more details to evaluate expired domains perfectly to Crush in Google SERPs.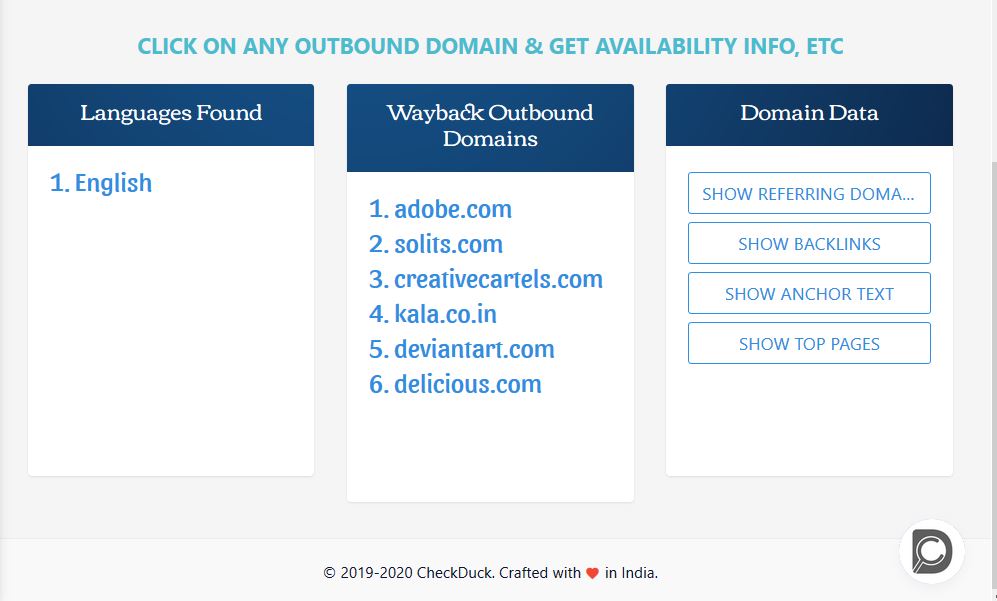 6. Place The Order Of Your Desired Domain(s):
Now, in the CheckDuck's domain details dashboard, click on the link that says Available or Backorder?(You need to be logged in to your inbackorder account for this). If the domain is under general availability, it will take you directly to the domainr registration.? If the domain is under backorder status, it will take you directly to iNBackorder's domain ordering page. Fill up your details, and submit the order. Once your domain is registered on your behalf, you'll be notified about it. For more details about the ordering process, you can always refer to: https://inbackorder.com/faqs
Final Verdict
If you are new to this, in checkduck, just prefer Link Score 2 & Above, Clean Score 4 & Above, Domain Score 1.3 & Above, try to avoid 301 or PBN used Domains but you can still use 301 or PBN used Domain if link score is above 3 & Referring Domains are from authority sites.
You have filtered out powerful .in Domains, now crush Google SERP's using them in various ways:
PBN
301 Redirect
Money Blog
If you wanted to make some quick money you can sell it out on:
Fiverr
Freelancer
Facebook Groups
Legiit
The fastest way to flip domain is by posting in Facebook Groups, some of the best Buy Sell Groups for Expired Domains Selling:
LionZeal Marketplace
BHC PBN Marketplace Online
LBWS Buy / Sell
Happy Hunting!
About Author
Praneet Thakur is a Blogger, Online Entrepreneur, and founder of CheckDuck. He loves to read and share his knowledge about working with expired domains. One of his blogs PBNGuru is well known among SEO experts community.