Inbackorder, in collaboration with SEMrush, is excited to announce the biggest and the most awaited International Digital Marketing Conference – The SEMrush Marketing Show! For the first time, the conference on such scale is coming to the country (40+ international speakers, 20+ guest experts, workshops on Ads and Analytics from Google, Linkedin and SEMrush).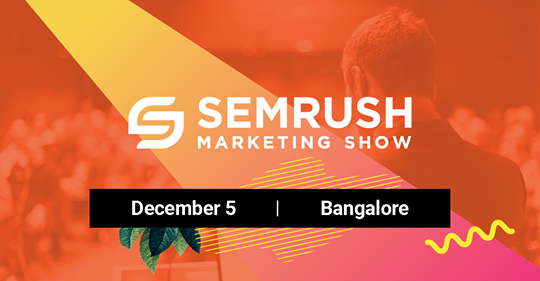 Why you have to be there?
It?s in India. Marketers yearn to attend international marketing conferences such as MozCon, BrightonSEO, SMX Advanced and many Affiliate Conferences. SEMrush is bringing the international marketing conference here in your own country. No visas, no international flights and no super expensive entry fees.
Discover best practices from big brands (Google, Linkedin, Microsoft, Uber and many more) and the strategies they follow around growth marketing, SEO, Online Ads, and Domain Names. Implement them to your daily work immediately after the conference. Gain inspiration and edge-cutting techniques from world-known marketing gurus: Larry Kim, Aleyda Solis, Purna Virji, Benu Aggarwal, Craig Campbell and many more. Get the opportunity to network with country's best marketers, affiliate experts, and Domain Name Veterans. Also, representatives from iNBackorder will be there too. Please contact support if you want to book a personal meeting slot with them.
If you had to attend just one conference this year then this is the one.
Now to the good bits : )
iNBackorder is offering a special discount for its users to attend this conference. Use the promo code ?INBEXCLUSIVE? and receive an exclusive 35% off on all passes! (grab your ticket for less than $64.)
Save the date: 5th December, Sheraton Grand, Bangalore, India
Check out Agenda, all speakers and more details: https://semrushconf.in
See you there!